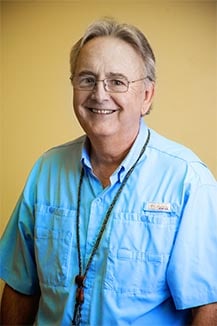 Dale Emery (Founder)
Dale Emery has been training dogs for hunting and obedience for over 30 years. He originally built Stonehearth Kennels for his own dogs, but decided to expand its operation into a boarding and training facility. He visited larger kennels out of state and took the best ideas and incorporated them with his own as to how he wanted the kennels built. He built the kennels on 16 acres of land and added two ponds to have access to water training. The grounds are set up to teach young gun dogs (retrievers and pointers) concepts that they will encounter in the field.
The large outdoor basic obedience compound is evenly lighted by high pressure sodium lights (HID) for night time training. In winter and inclement weather, Dale and his trainers use the indoor training facility. Many of the retrievers and pointers Dale has trained have attained their AKC Master Hunter, Senior Hunter, and Junior Hunter test titles. Dale has had field trial dogs attain AKC Qualifying All Age status and compete in Open All Age dog trials as well.
Dale has trained many breeds of dogs in Basic Obedience. He not only works with young dogs for basic obedience but has worked with problem dogs, deaf dogs, older dogs, and dogs that are going to be used for companionship for elderly, disabled and/or physically impaired clients.
The primary goal for any type of dog training is to get the dog and owner to work together as a team. Dale has a set program he uses for training and oversees his trainers to make sure that the techniques are followed to his standards. Most owners will see remarkable and positive changes in their dogs after completing the obedience training and/or gun dog training program with Dale and his trainers.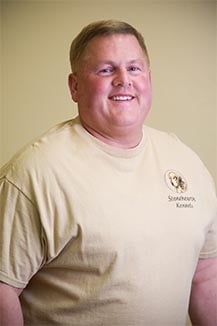 Tim Franzini
Tim Franzini has been training dogs at Stonehearth Kennels for over 20 years. He is an avid duck and pheasant hunter who travels to Tennessee, Iowa, North Dakota, and locally, to hunt with his sons.
Tim and his sons all have Stonehearth Kennel trained gun dogs and own dogs with the Stonehearth lineage. Tim has had hunting dogs that were AKC Hunt test titled and have competed in hunt tests.
Tim is also a high school hockey coach and has coached winning hockey teams in La Crosse, Onalaska, and Holmen.
He brings the skill, patience, and determination he has developed as a coach and uses these traits when training dogs in obedience or gun dog training.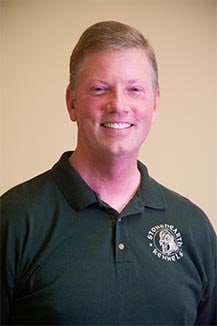 Reese McCoy
Reese McCoy has been training dogs at Stonehearth since 2002. He first started as a Stonehearth client and was so happy with Dale's training methods and dedication that he decided to become a dog trainer himself.
Reese is a duck hunter and he participates in AKC hunt tests. He titled each of his adult dogs after joining the Stonehearth team and his Yellow Labradors have earned Master Hunter and Senior Hunter titles.
Reese is a very patient and dedicated trainer who works closely with clients to ensure that they can skillfully handle their dogs.